After enjoying the wonders of Indonesia for 1 month, it's time to share my experience with you!
There are lots of places I haven't had the chance to visit yet, but here are the ones I've explored and my opinion!

Bali is touristy and that's not great news. If you're looking for an 'authentic' experience, you can easily skip it and try other islands.

However, I think it's still possible to visit a more 'authentic' Bali by heading north, east and especially west. For my first time on Bali, I did all the touristy things, but I managed to enjoy my stay!
On Bali, this is surely a surfer's paradise. The coast is magnificent and you can find some very beautiful beaches (Dreamland Beach, Padang Padang Beach, and many others), as well as good places to surf.
The temple of Pura Luhur Uluwatu is very popular but due to lack of time, I didn't get the chance to visit it.
It's a very pretty beach. The first part is dedicated to a resort/restaurant, so if you want to put your bum on a sunbed, this will be perfect for you. If you want a little more peace and simplicity, just keep walking to the right and you'll be in peace.
And as a little bonus, apparently the sunsets are magnificent from this beach!
To reach the beach, you pass through a temple and climb down a flight of stairs. You may encounter monkeys along the way, so be careful with your belongings.
It's a very small, VERY touristy beach. I think it must be beautiful if you're one of the first to arrive, otherwise it looked complicated to find a place to put your towel down.
There are lots of stalls, so you can buy souvenirs, snacks and drinks on the beach.
It's really more of a city vibe, with lots of boutiques if you want to do some shopping (clothes, souvenirs, home decor). Otherwise, it's also known for partying!
Personally, I took advantage of my hostel's swimming pool and partied like crazy!
If you're travelling by scooter, be aware that the traffic is very heavy.
3. Surf & chill in Canggu
Another surfer's paradise. It's also perfect for learning the rudiments of surfing, as the waves are simpler and the reef less dangerous than on Uluwatu.
If you like to party, it's also a great place to be – there are plenty of beach clubs and clubs on this side of the island!
And the rest of the time? You can enjoy life by the pool in your establishment or sipping a drink in one of the bars/restaurants on the immense beach, then wait for the magnificent sunset!

If you're looking for simplicity, you can take a walk along the beach to the north, where it's much quieter.

If you're travelling by scooter, there's a lot of traffic here too.
4. Visit Tanah Lot temple
Time: 2h | Price: 60 000 r
This temple, situated on a rock, was built by a Hindu traveller in the 16th century.
It is a very popular spot and therefore very popular with tourists. Before arriving at the temple, you will cross a market full of shops. Then you'll see the temple at the end. There's a nice little walk around it. For sunset (if you're lucky the place is still open), the view should be magical!
If you want to take specific photos, check the tide according to what you want. At low tide, it's possible to get onto the rock (but not into the temple) and you'll probably get a tide of tourists on it.
You can get there from Canggu by Grab ("Uber" in Asia) and return the same way. There are plenty of drivers in the area.
When I went, it was low tide so the temple wasn't surrounded by the sea and it was possible to get close to it. It was still really nice, especially at the end of the day when the sun was coming down. I really enjoyed my little walk.
Although quite touristy and with a lot of traffic, Ubud invites you to relax and discover its rice fields, temples, hikes and yoga courses.
Sacred Monkey Forest Sanctuary
You can get up close with the monkeys while strolling through the forest. The monkeys roam freely and come and go from the park.
You can take your time, as it's not very big, but it can be done in 45 minutes to 1 hour. Time to enjoy the vegetation, the monkeys and the few temples inside.
Be careful not to bring any food if you don't want any problems, the monkeys are relatively reckless and can be aggressive if they smell food.
I really enjoyed it, even though it was very crowded. The monkeys are just about everywhere and the freshness provided by the forest is great!
The temple is private, so you can't go inside, but you can go to the front. You enter through the Café Lotus (you don't have to buy anything to see the temple) and you can see two pools filled with water lilies and a passageway leading up to the temple.
I found the place really beautiful, even if it's quick to walk around, it has charm!
Balinese dance demonstrations are held at the same venue, Café Lotus. A different dance is performed every day of the week. You can find the programme: here.
I had been to the Legong dance and really enjoyed the show. It lasts just under 1 hour, and I was afraid of getting bored (because I was tired), but I was captivated by the dances.
The atmosphere here is darker and simpler. Only the central fire provides light for the dancers. Some of the dancers move to the rhythm of the men's chants echoing around the temple.
It's not a purely traditional dance, as it was invented to entertain, but it's just as captivating.
During the last part, where one of the men walks on burning coconuts, which is quite surprising!
I did the one at the Pura Dalem Taman Kaja temple.
I found the show very captivating, especially as I was in the front row and the singers were 5cm from my knees. It was immersive and I really enjoyed it.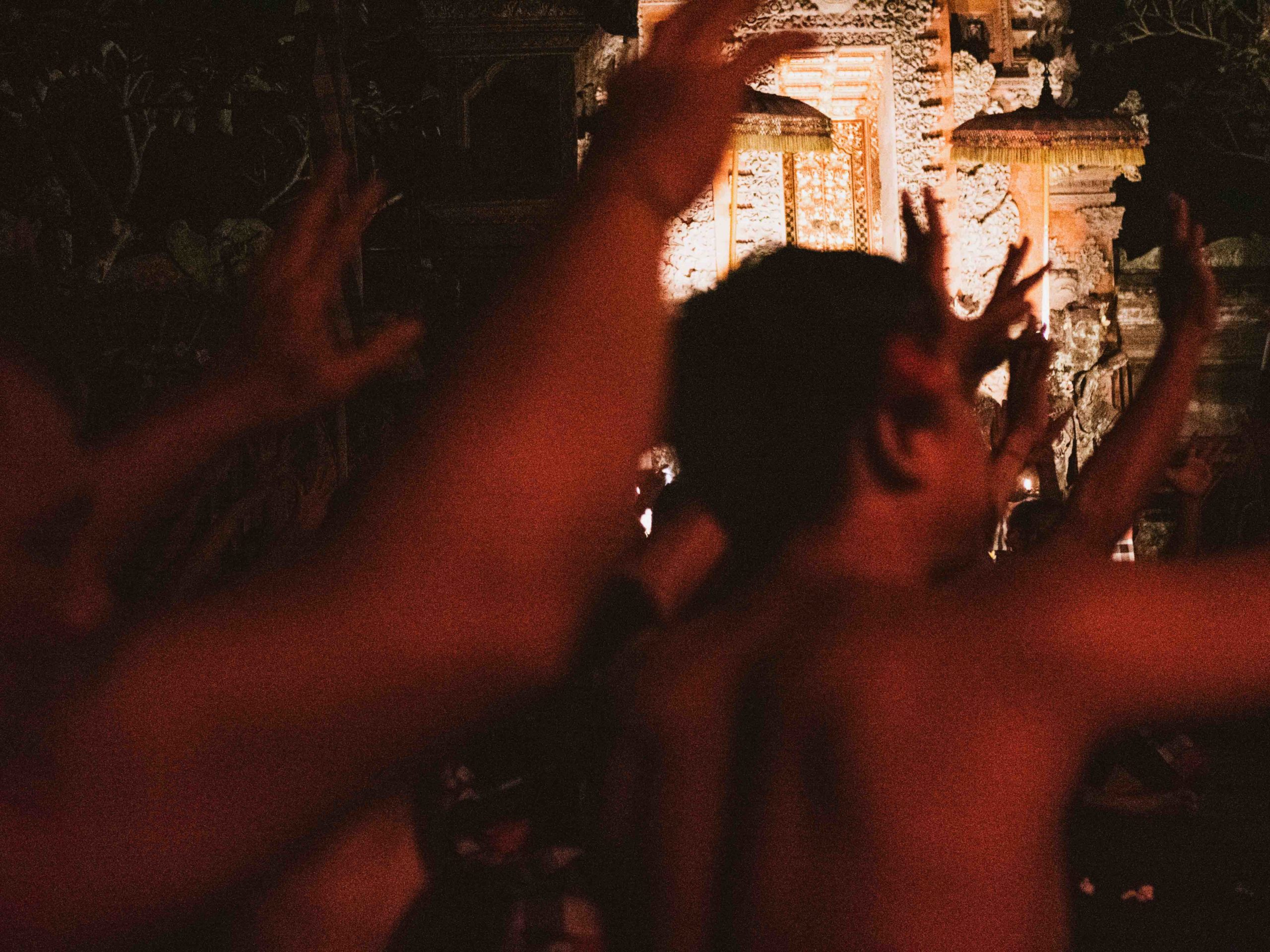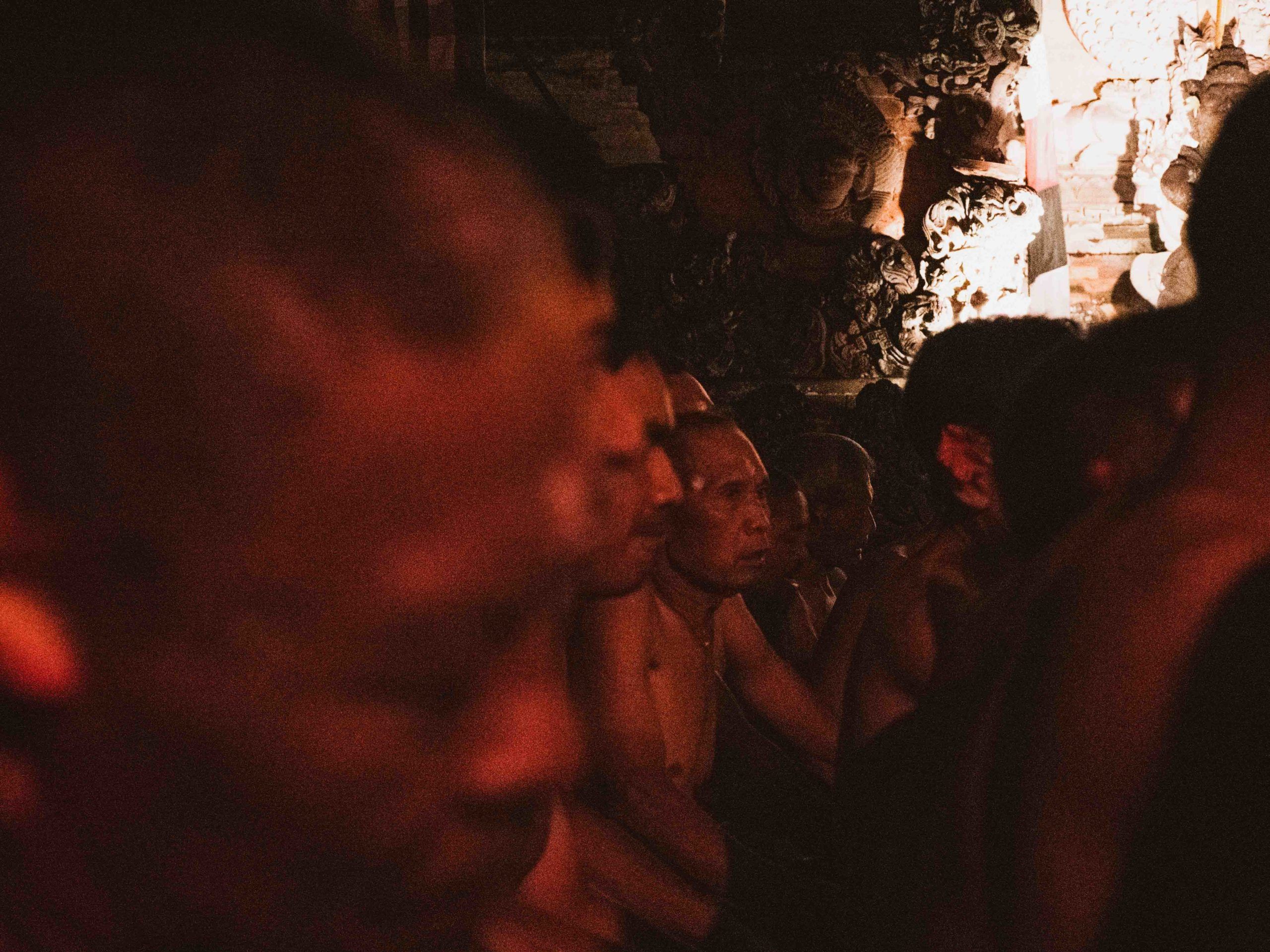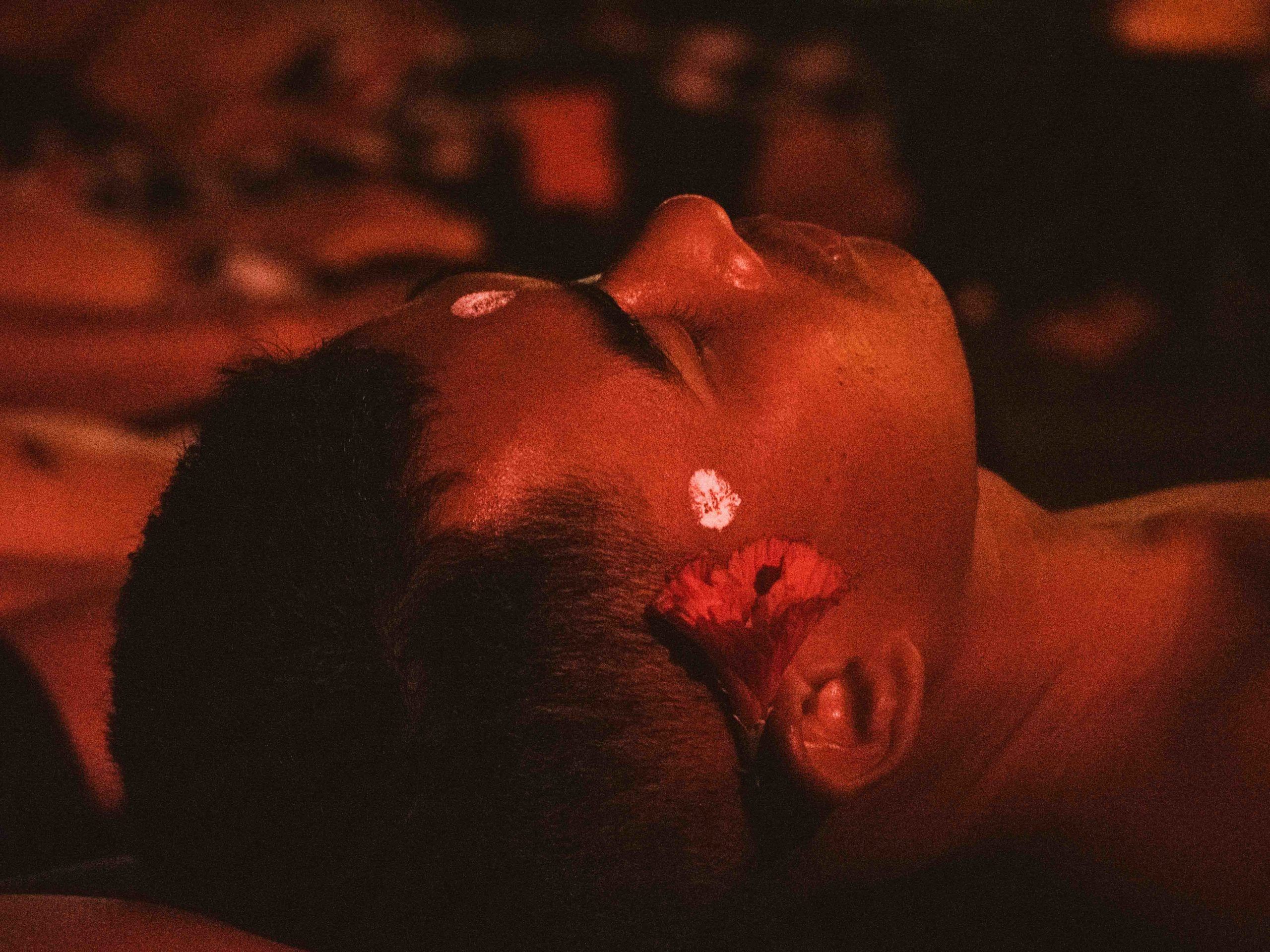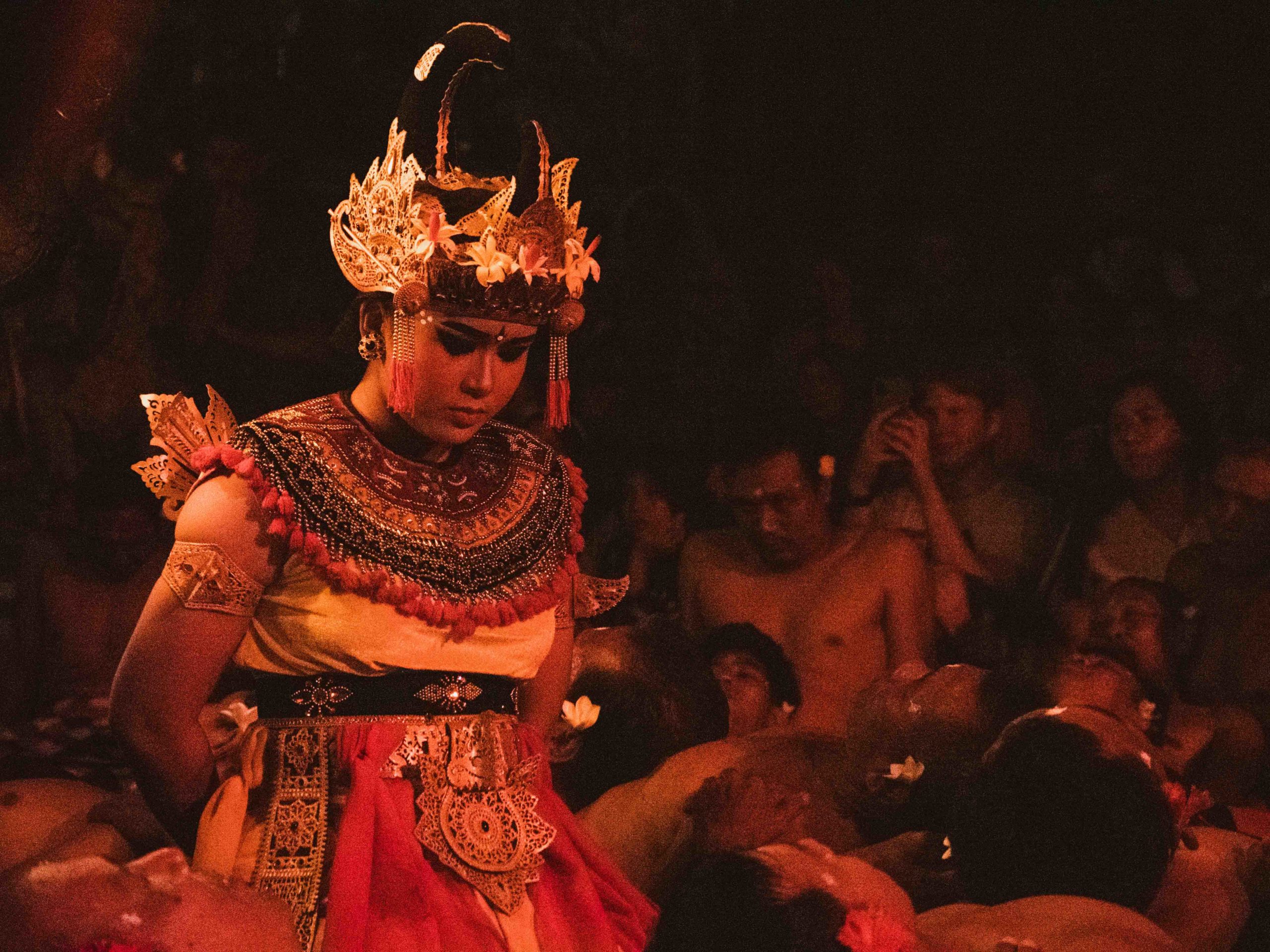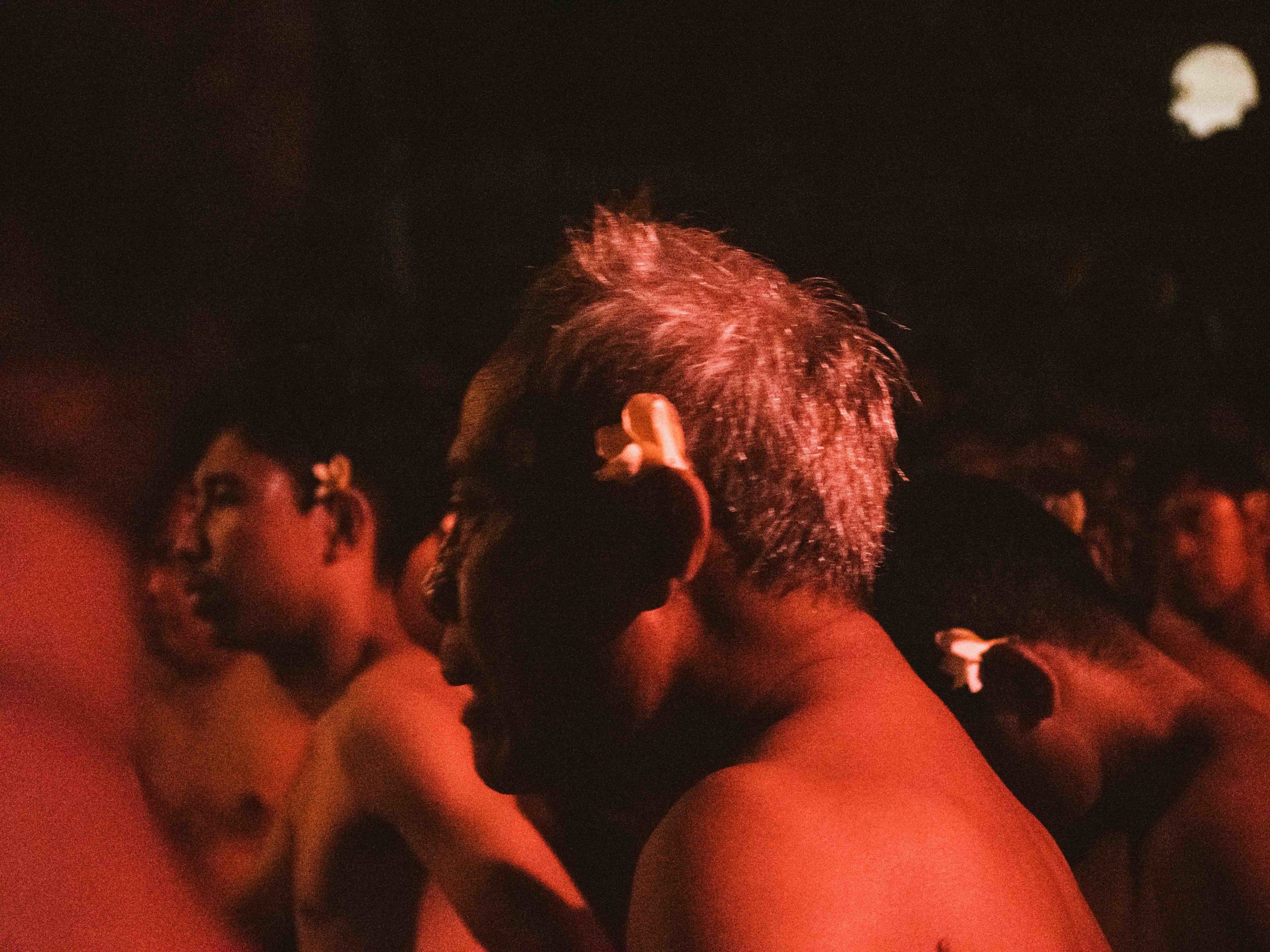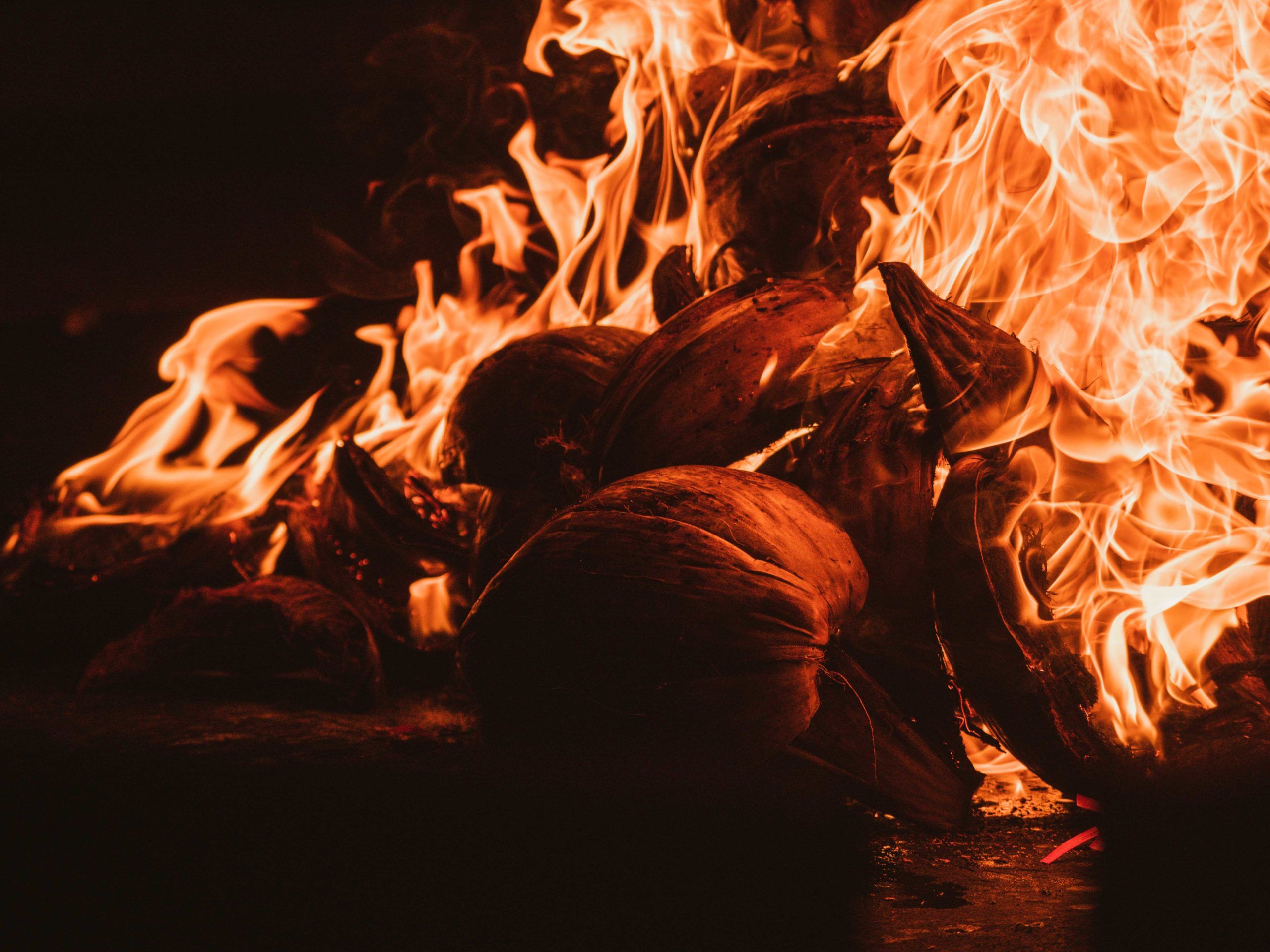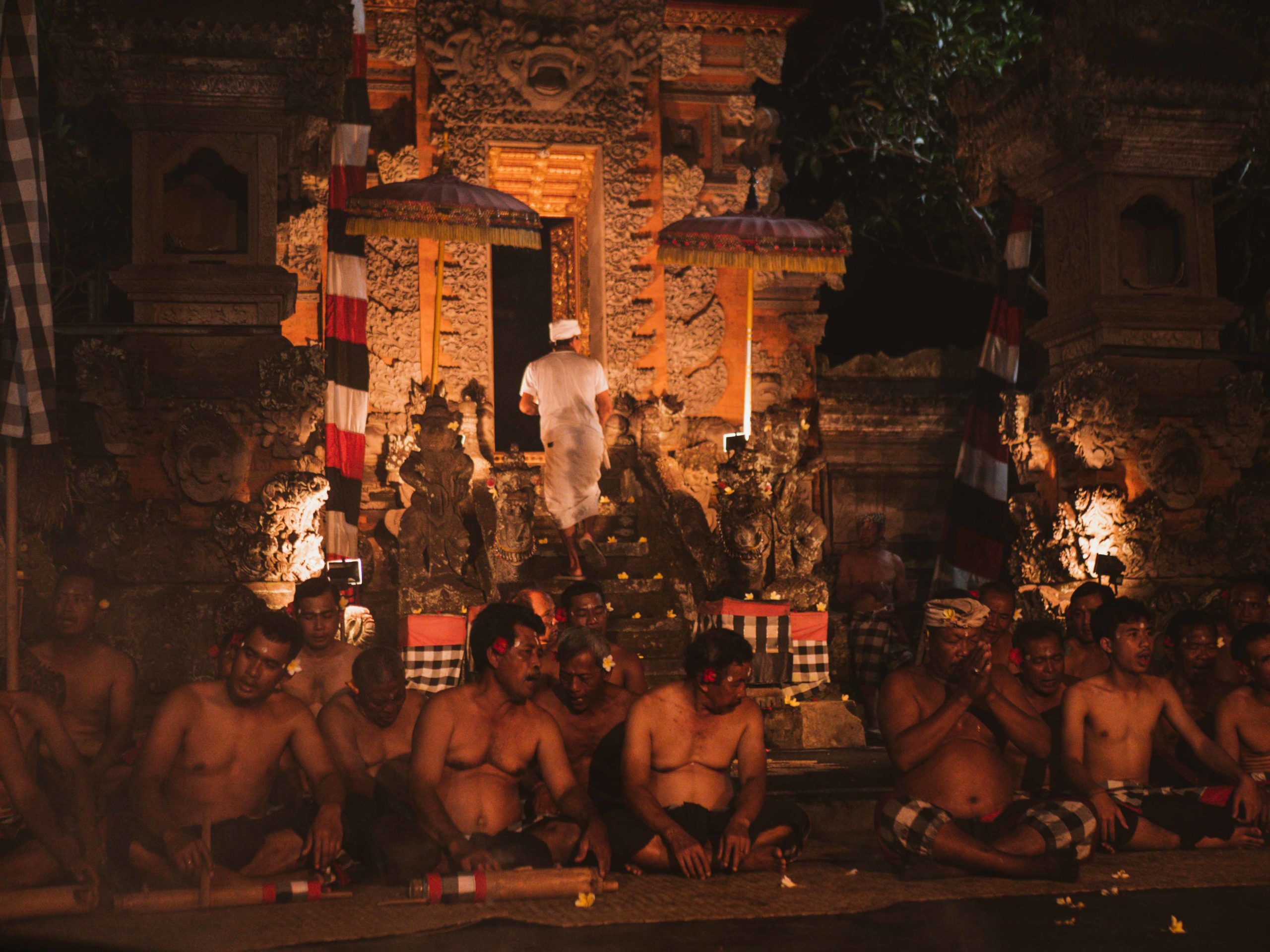 There are many rice fields around Ubud, and if you don't want to take transport to see them, there are some very nice ones on the outskirts of town. One of them can be seen from the alleyway with the market and shops near the Saraswarti temple. You continue for 15/20 minutes along this street, then after the small climb, you can turn left and see the rice fields.

I discovered the path a bit by chance and didn't know what to expect. I met a number of locals and it was great to take the time to chat with them. I really enjoyed it!
6. Bathing at the Tegenungan waterfall
Time: 2h | Price: 20 000 r
From the car park, you walk along a street with various restaurants and cafés; if you decide to take a break before descending, choose one with a view of the waterfall.
Otherwise, you walk down the stairs for 10/15 minutes to reach the bottom, and after a further 2 minutes, you arrive at the foot of the waterfall. You're free to put your towel down and go for a refreshing swim!

Generally speaking, it's very touristy, and there's even a "beach club" with fairly loud commercial music. It's not bad if you don't want to do anything and just enjoy the view with a good cocktail.

It was nice, I was glad to have seen the waterfall and to have been able to jump into the water!
7. Discover the Goa Gajah temple
Time: 2h | Price: 50 000 r
This place is recognised as a UNESCO World Heritage Site, and not for nothing. The Goa Gajah temple is divided into 2 parts, with an upper part dedicated to Hinduism and a lower part hidden in the forest and dedicated to Buddhism. In the Hindu part, there is a cave whose entrance is guarded by a demon carved into the rock.
It's a much underrated place, but well worth a visit!

I wasn't expecting it to be so big because the only photo on the internet was of the cave, so I was delighted to be able to explore the place.
8. Visit the Tegallalang rice field
Time: 1h | Price: 50 000 r
It's a rice paddy near Ubud that has made the most of its appeal! Although I'm not a big fan of places that have been 'modified' to be on Instagram, I have to admit that it's magnificent and the view is incredible!

It's quite touristy, but it wasn't too crowded either. The place is maintained more for tourists than for making rice, but it's so beautiful that it's worth it!

There are several tourist attractions where you can take photos and get some 'Instagrammable' shots. You can also have a drink and enjoy the view.
9. Visit the Gunung Kawi temple
Time: 1h | Price: 50 000 r
The temple is nicknamed the Valley of the Balinese Kings. It's a funerary temple dating back to the 11th century, but it's best known for its 10 statues carved into the rock. The statues are 7m high!
Only one part is really known, but the place is so much bigger than the internet lets on. The greenery is incredible, and there's another, slightly hidden side to explore!

This temple is really underrated, well, the descent and especially the ascent are too, but it's absolutely worth it! I LOVED it!
10. Attend the purification ritual at Tirta Empul temple
Time: 2h | Price: 50 000 r
The Tirta Empul temple is known as the temple of purification.
The ritual consists of purifying the body and mind using various fountains (with different properties) divided into 3 pools. Locals and tourists alike can do this by following specific instructions (follow the fountains in order, wear a special sarong, etc.). If you are a woman and you have your period, you cannot enter the temple (or many Balinese temples) as you are considered impure. No one will come and check, but signs are posted about it.

The temple is quite large and you can walk around before doing the ritual. It really is a magnificent place!

I did the visit and the ritual in the morning and it was a bit crowded, but it was fine. It's advisable to be there very early in the morning to avoid the crowds. It's a very rewarding and refreshing experience. I even saw a snake between two fountains.

You are given a first sarong for the temple, but to do the ritual you have to hire a second special one, and you can hire a locker to put your things in. Please note that it is forbidden to leave your belongings in the temple, so if you don't have anyone to look after them, it's best to hire a locker.
Sarong for purification: 15 000 r
Locker: 10 000 r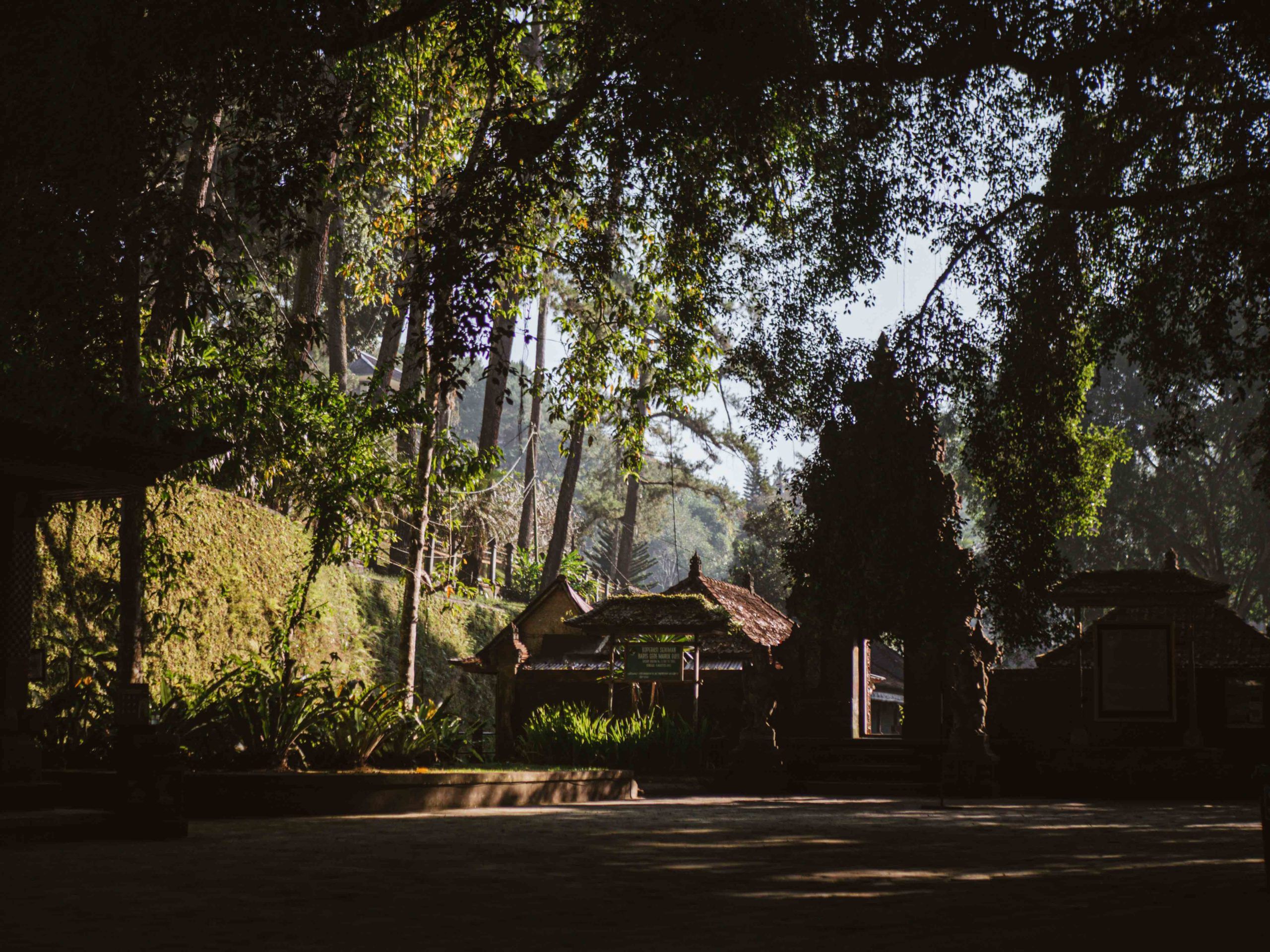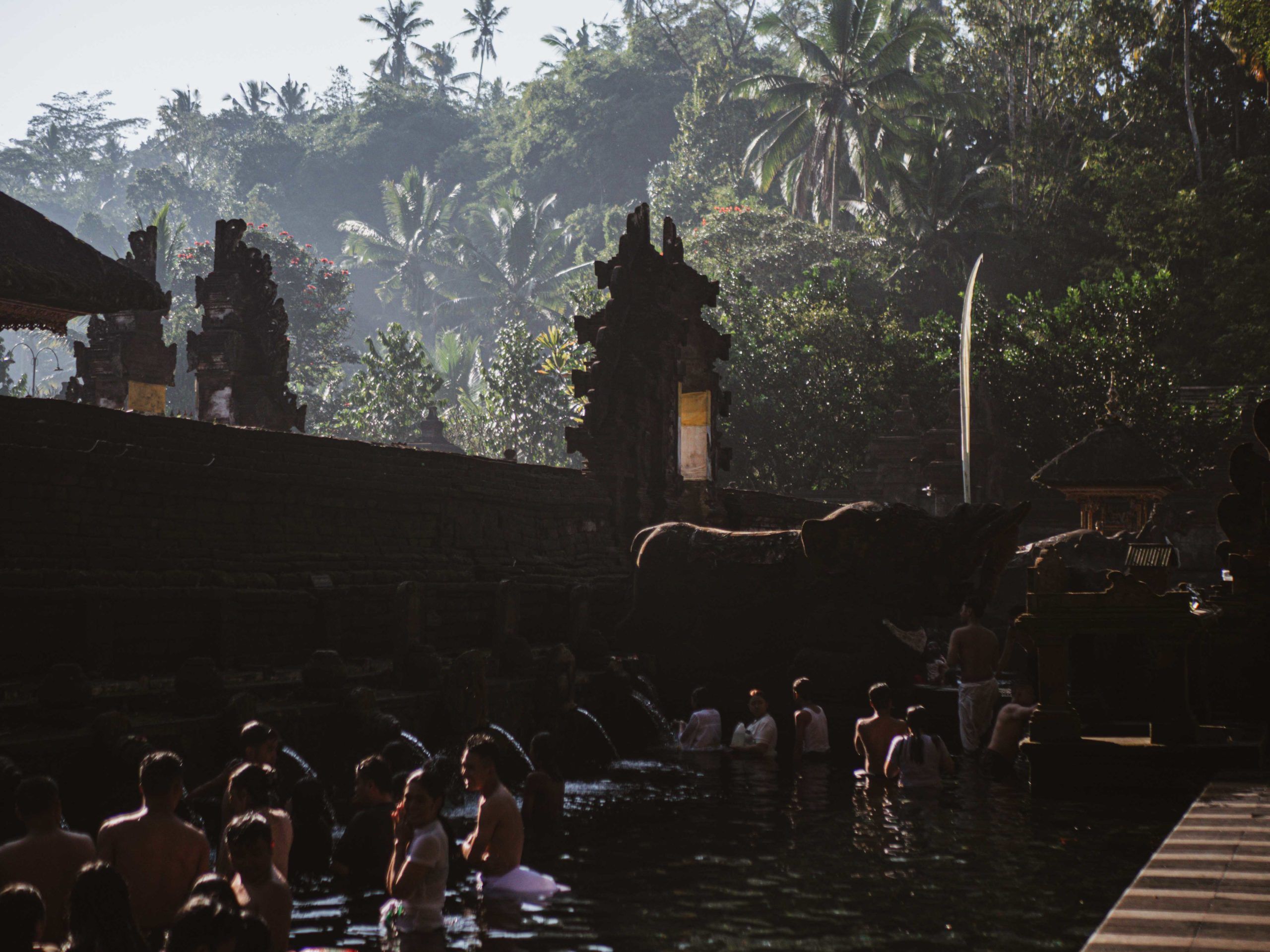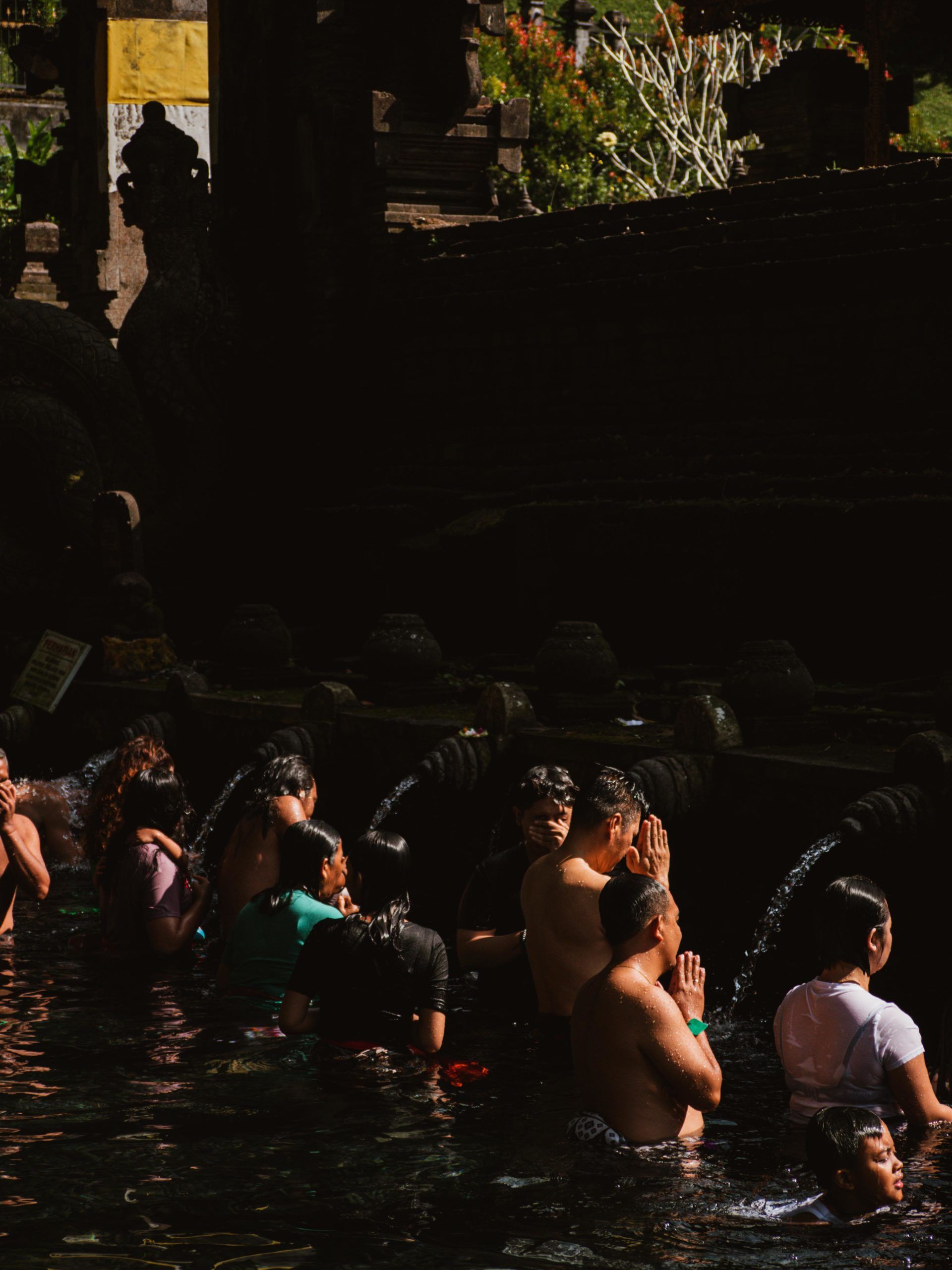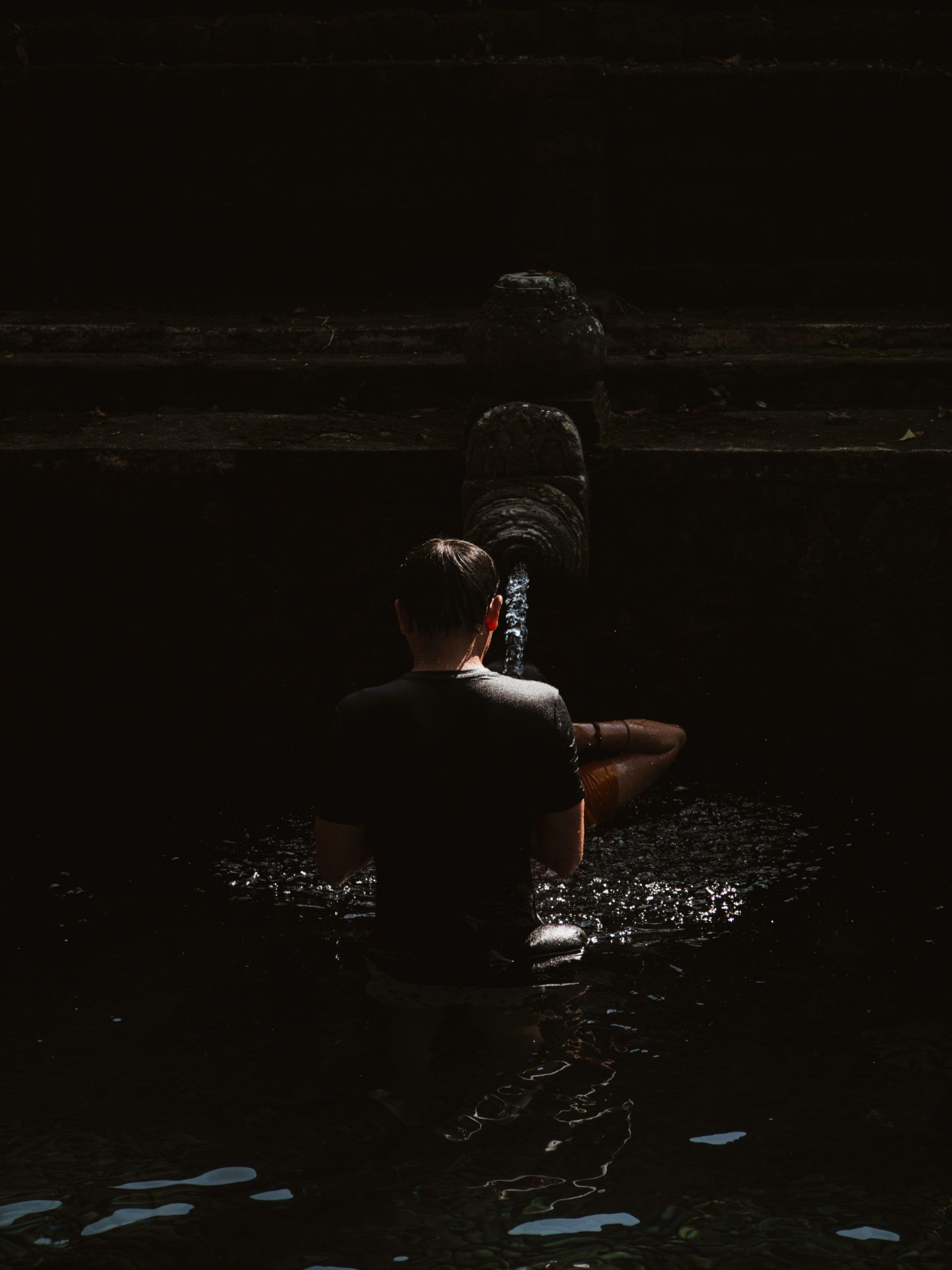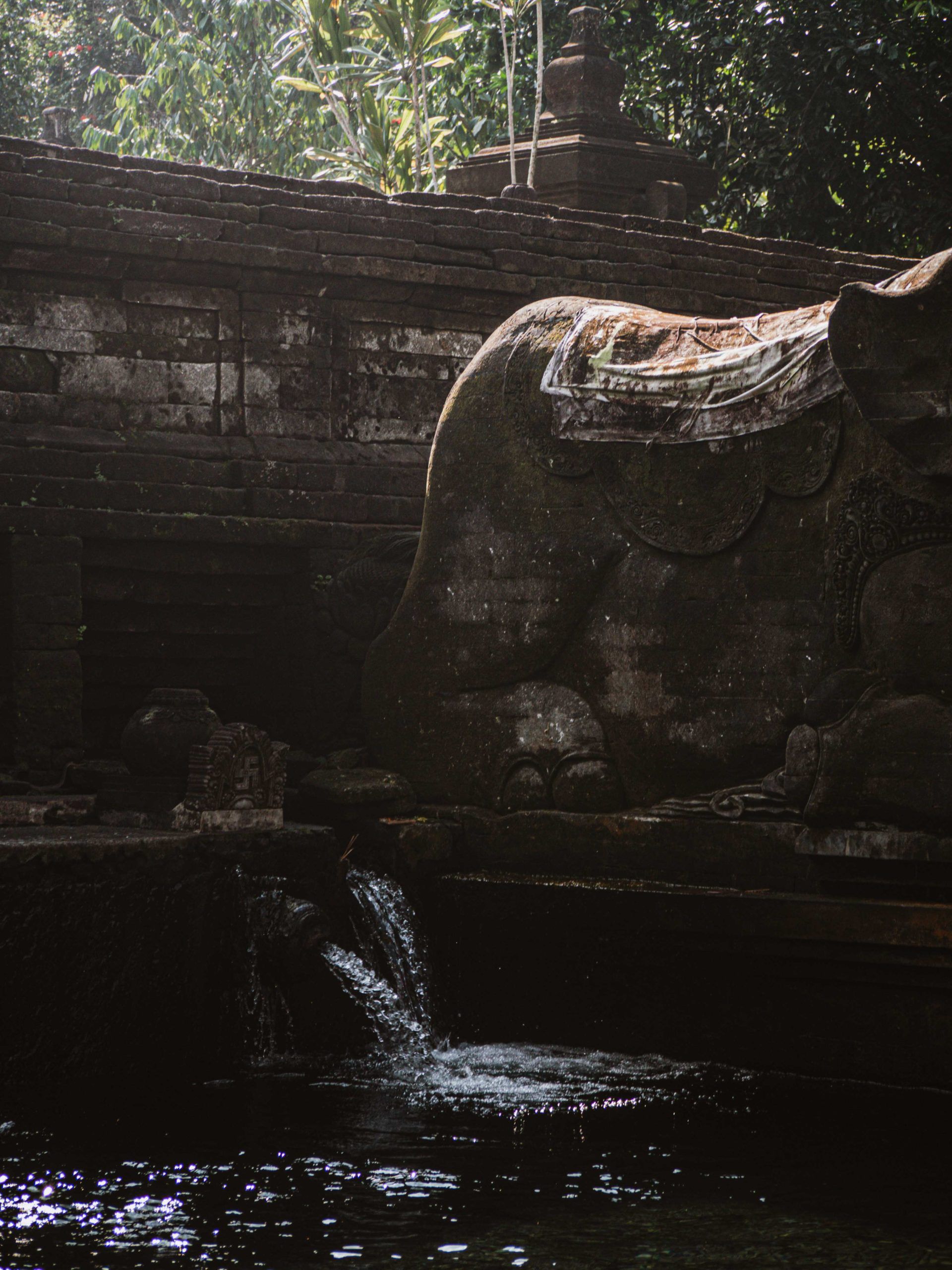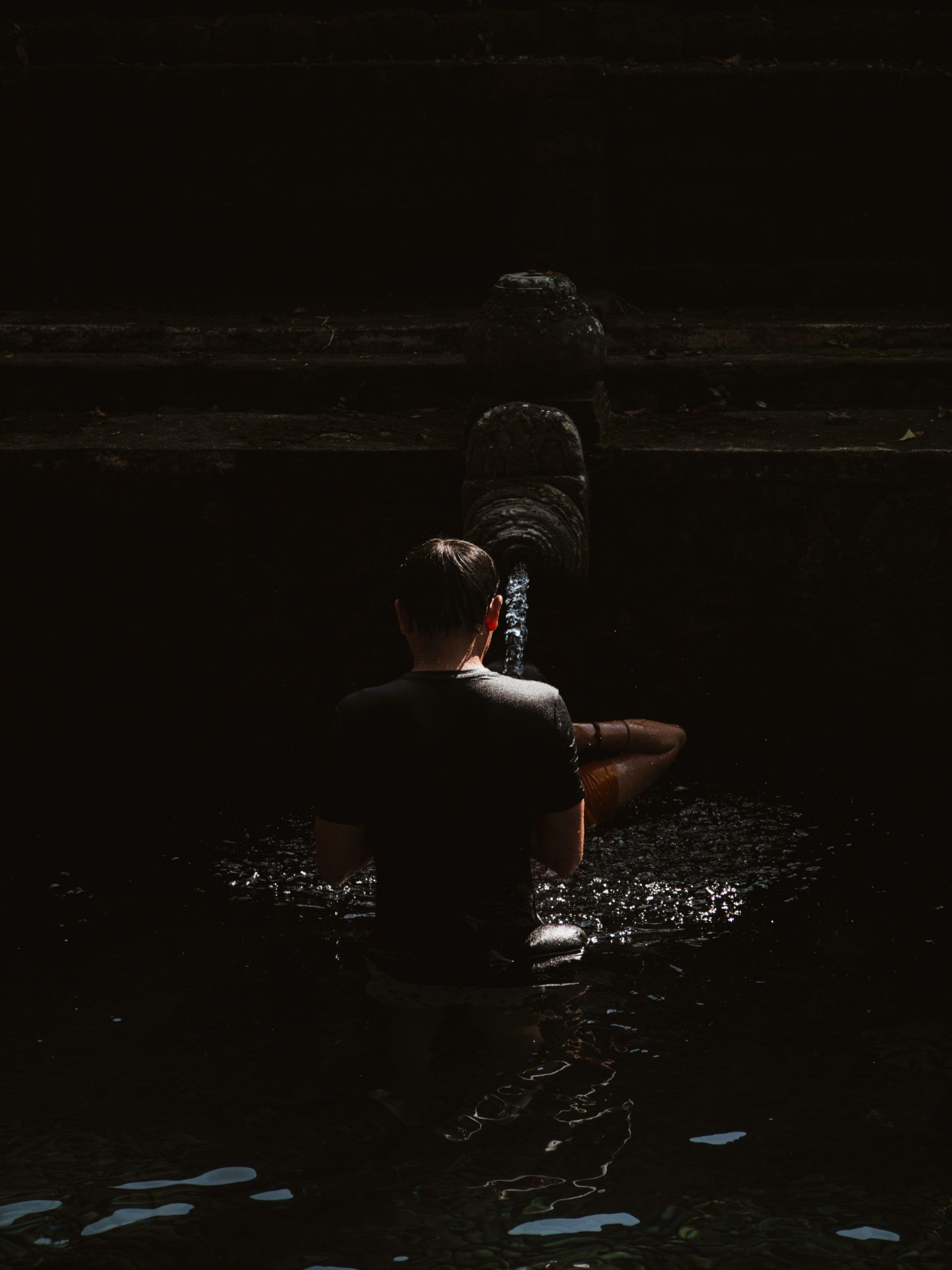 11. Visiting a coffee plantation
One of the things to do on Bali is to taste the coffee. There are many plantations and you will have the chance to try coffees with original compositions such as avocado. A popular and expensive coffee is made from the excrement of the Luwak, a small animal that ingests the coffee beans. The beans are then cleaned of the excrement, which gives the coffee a strong flavour. In my personal opinion, it tastes like a strong coffee, but nothing exceptional to be honest.

I did the one at Satria near Ubud because it was included in my trip to Mount Batur. I also had a second one after my visit to Sekumpul with my guide and her husband.
12. Explore Penglipuran village

Time: 2h | Price: 50 000 r
It is an "authentic" village where the locals have preserved their traditions and culture. There are said to be more than 1,000 inhabitants here today.
Penglipuran is no longer as authentic as it once was, having become a tourist attraction with numerous shops run by the locals. However, the village's architecture has been very well preserved and it is very beautiful and pleasant to visit.
13. Discover Pura Kehen temple

Time: 45min | Price: 50 000 r
Another underrated temple! This one is on the outskirts of Ubud too. It's quite small, but well worth a visit!
This Hindu temple dates from the 13th century and was one of the royal temples of the Bangli kingdom. It is built on a hill, which explains its interesting structure.

I had the chance to visit it on my own, I was literally the only person inside, my driver was waiting for me outside. It was a nice experience to visit a temple without other tourists inside.
Time: the morning | Price: 400 000 r
This is surely Bali's most popular tour, with hundreds of people making the ascent every day to see the sunrise from the Batur volcano. The ascent begins at 4am and you are expected to arrive at the summit at around 6am. A small snack is usually provided by tour operators. On the way down, you'll see part of the crater and probably a few monkeys!

It was really beautiful to see the sun rise from Mount Batur and to see other volcanoes around. But it's very, very touristy. The climb was jammed and we had to stop and hitchhike every 3 steps. I didn't find the climb difficult at all. Despite everything, it was a good experience and I'd recommend it. I'd booked with a small local agency in Ubud.
Time: 30min | Price: 15 000 r 
It is also known as the Kapok tree or the ancient Bayan tree. The tree is over 50 metres tall and over 700 years old!
I'm not going to make a diversion just for that, but if it's on your way (or not far), go for it!
16. Discovering rice fields
If you've been to the tree and are heading north, you'll come across a view of these incredible rice fields. We came across them by chance!
17. Visit the temple at Lake Bratan
Time: 45min | Price: 75 000 r
This temple is located on Lake Bratan, 1,500m above sea level. It is located in the north of Bali in a mountainous region. The name of the temple is Ulun Danau, but it is often linked directly to the lake. This place of worship is dedicated to the Balinese goddess of the lake, hence its presence in the middle of the lake. The temple is a sight to behold, even on a grey day.
On the other hand, the price of admission is relatively higher than that of other temples on Bali. The gardens are quite large, but the temple isn't as big as I'd imagined. It's also quite touristy, the place has made photo attractions to attract a few more tourists and children.

It was nice, I'd recommend doing it, as it's different from the other, more "earthly" temples.
18. Marvel at the Sekumpul waterfalls
Time: 4h | Price: 75 000 r
Located in the north of Bali in the village of Sekumpul, this park contains 3 superb waterfalls. You'll need to allow a little time, as you have to descend into the valley to reach the foot of the waterfalls.
On the way down, a small promontory offers a clear view of two waterfalls: Sekumpul and Fiji. Then you carry on quite a way! With our guide, we did the hidden waterfall and then the Sekumpul waterfall. You cross small streams to reach the waterfalls, which is really fun! The hidden waterfall is close by and well worth a stop. When we arrived at the Sekumpul waterfall, the clouds had cleared to give us a superb rainbow in the waterfall. It was magical!
There is a third waterfall: Fiji. If you have the time, I recommend you go there. Unfortunately for us, it was the end of the day and we had to get back!

It takes 2h/3h for the first two waterfalls and 4h for Fiji. It's not a very strenuous or long walk. It's relatively easy, but on the way back, you have to climb up and it stings a bit.

I've never seen such a beautiful waterfall in my life! It was absolutely magical! It was so worth the day's drive to get there!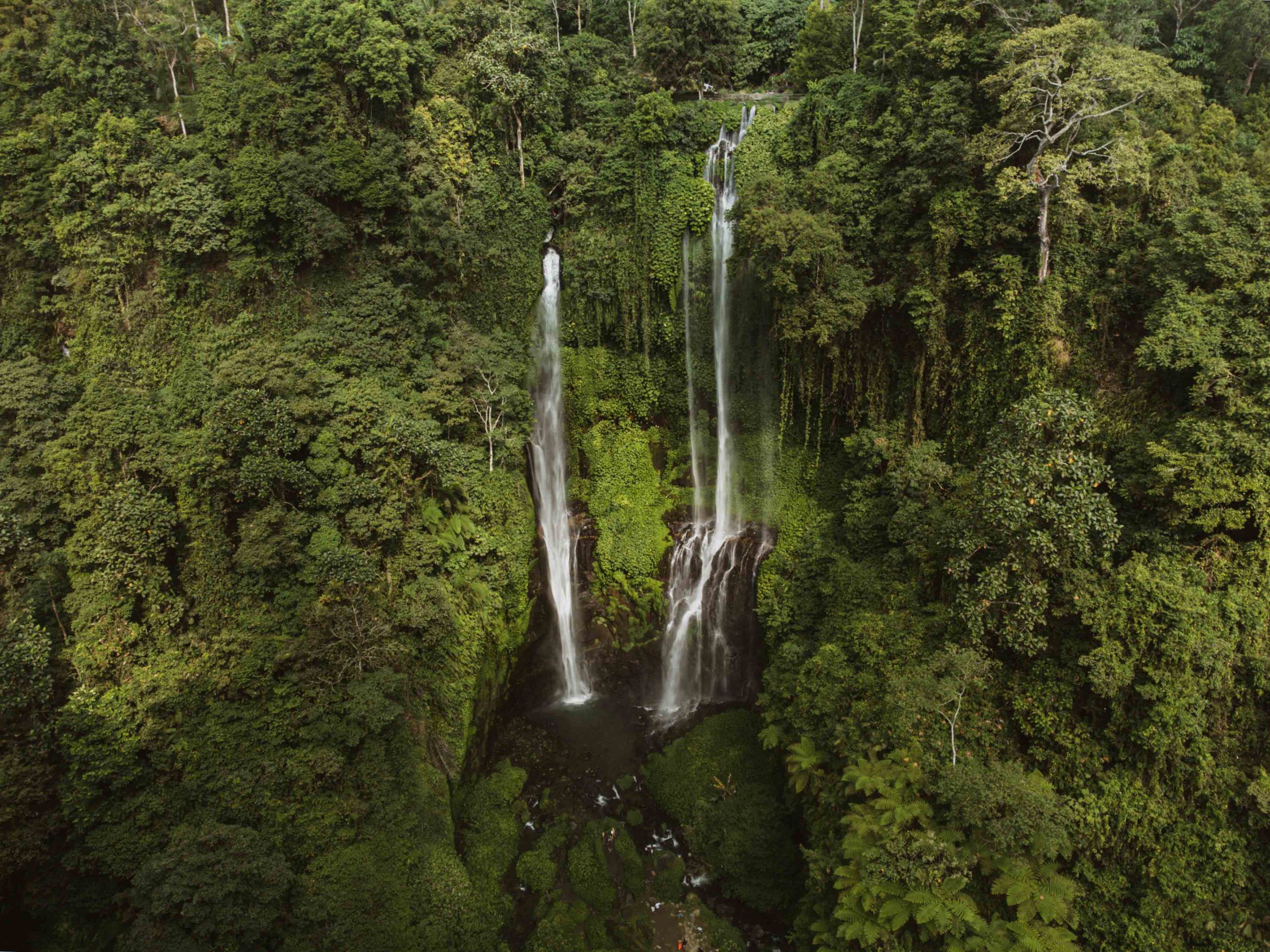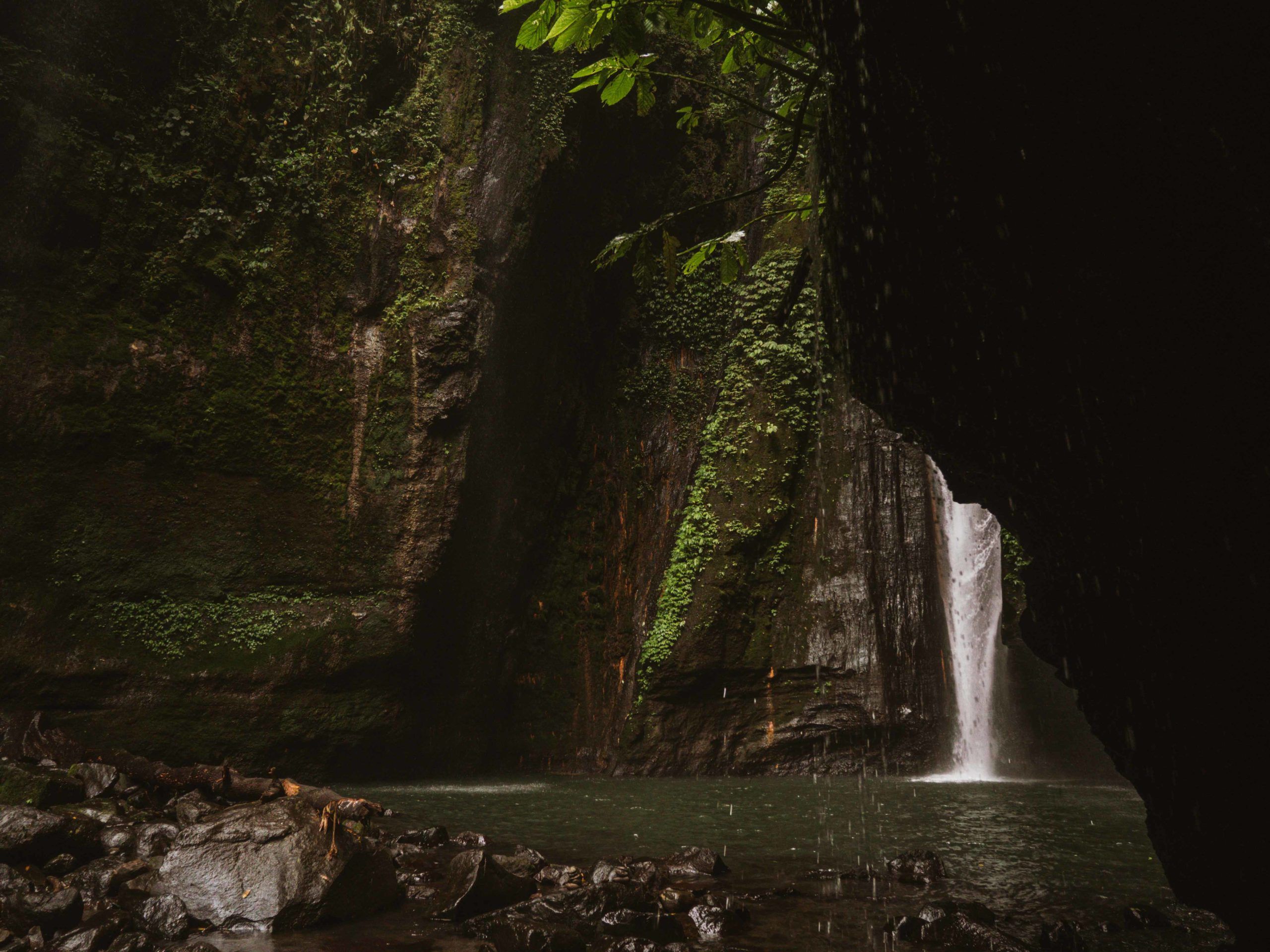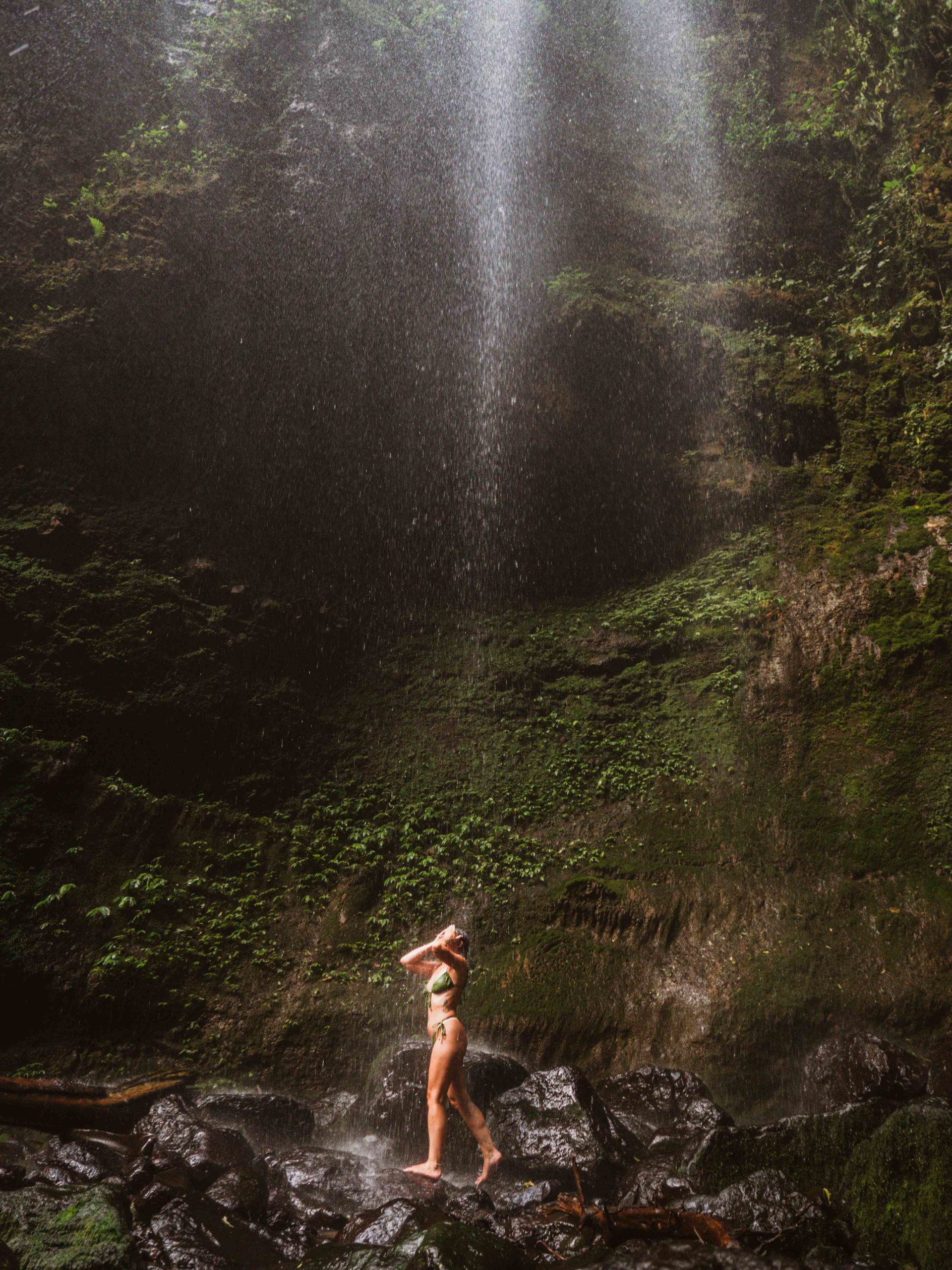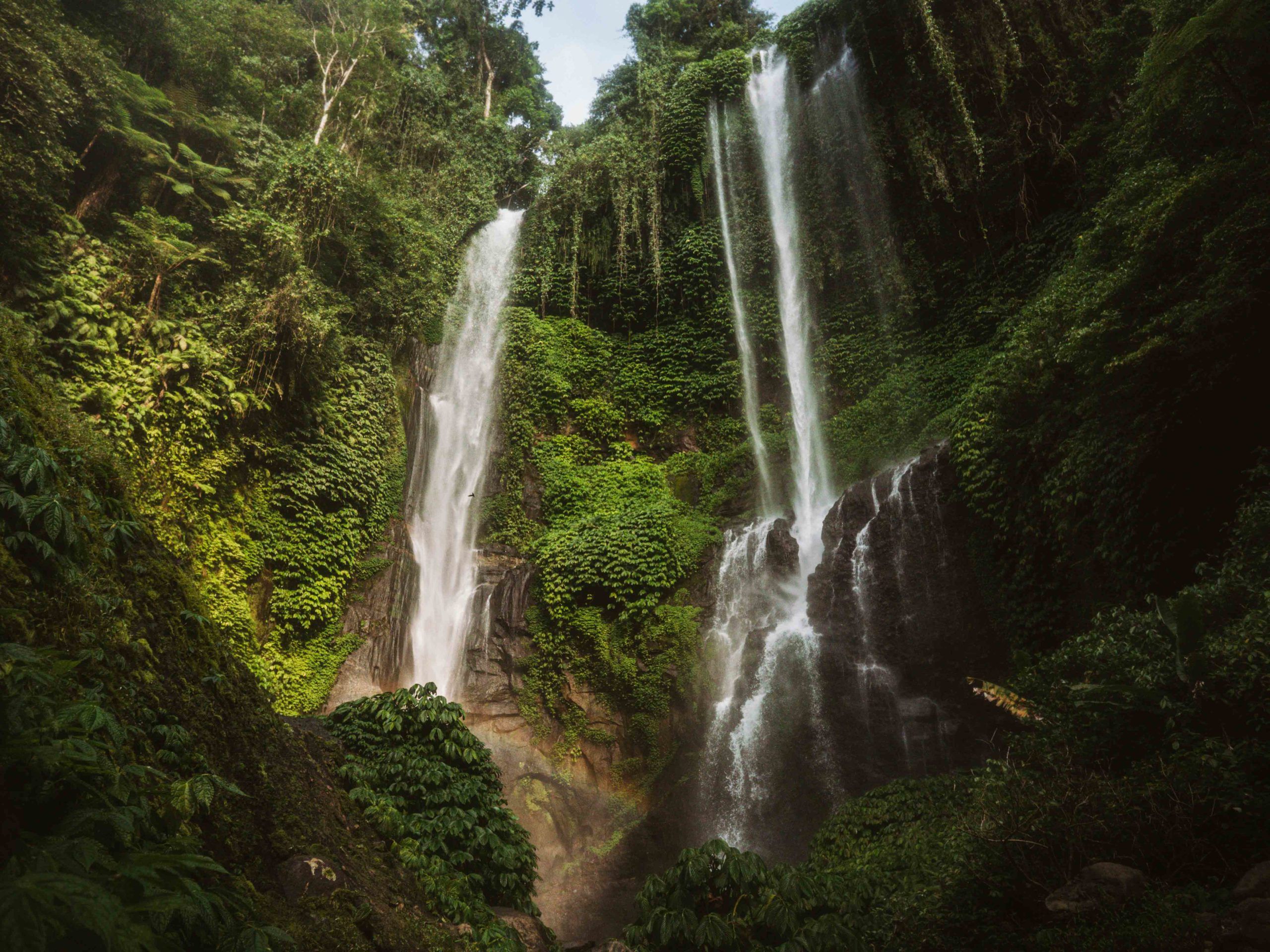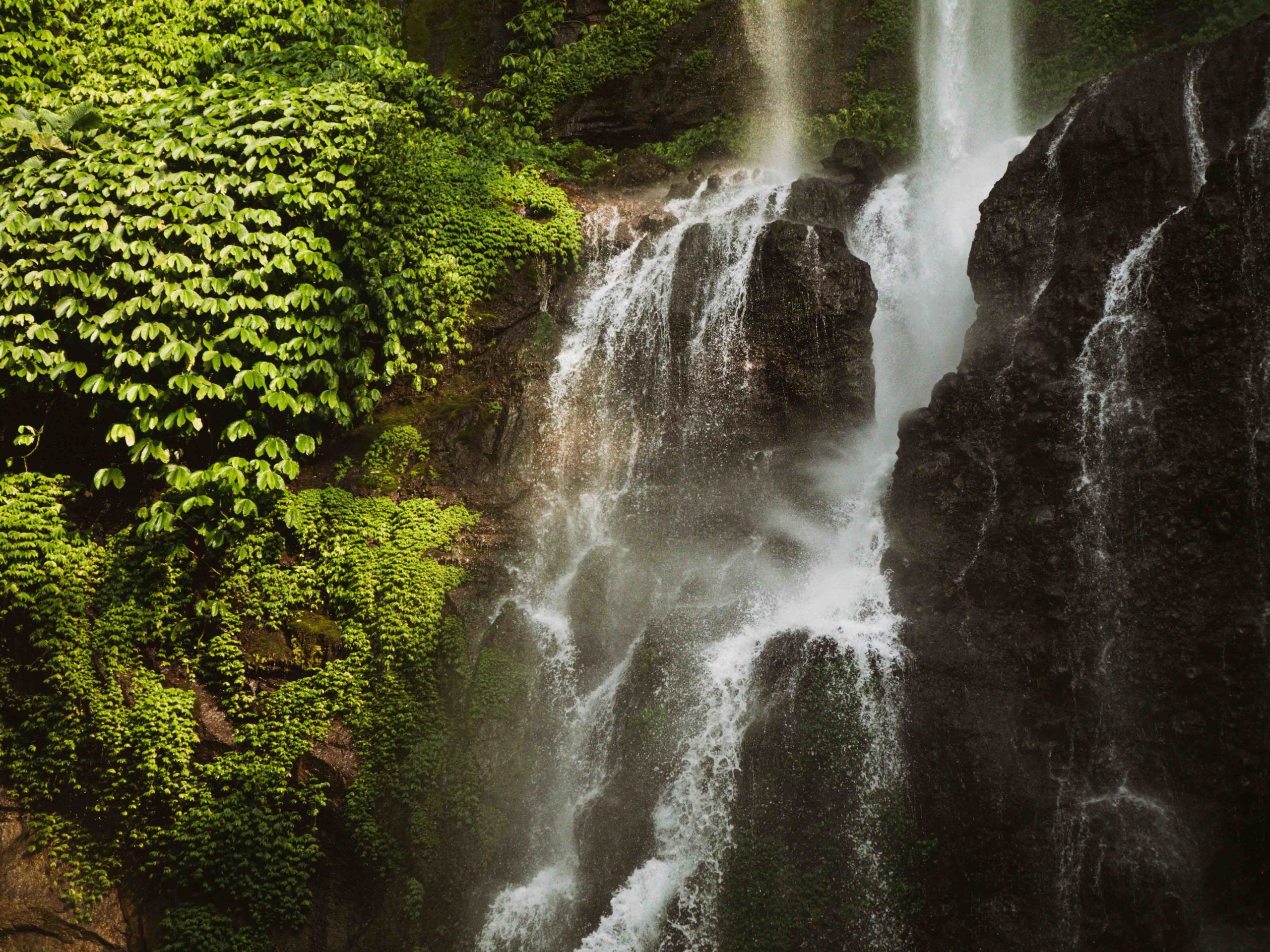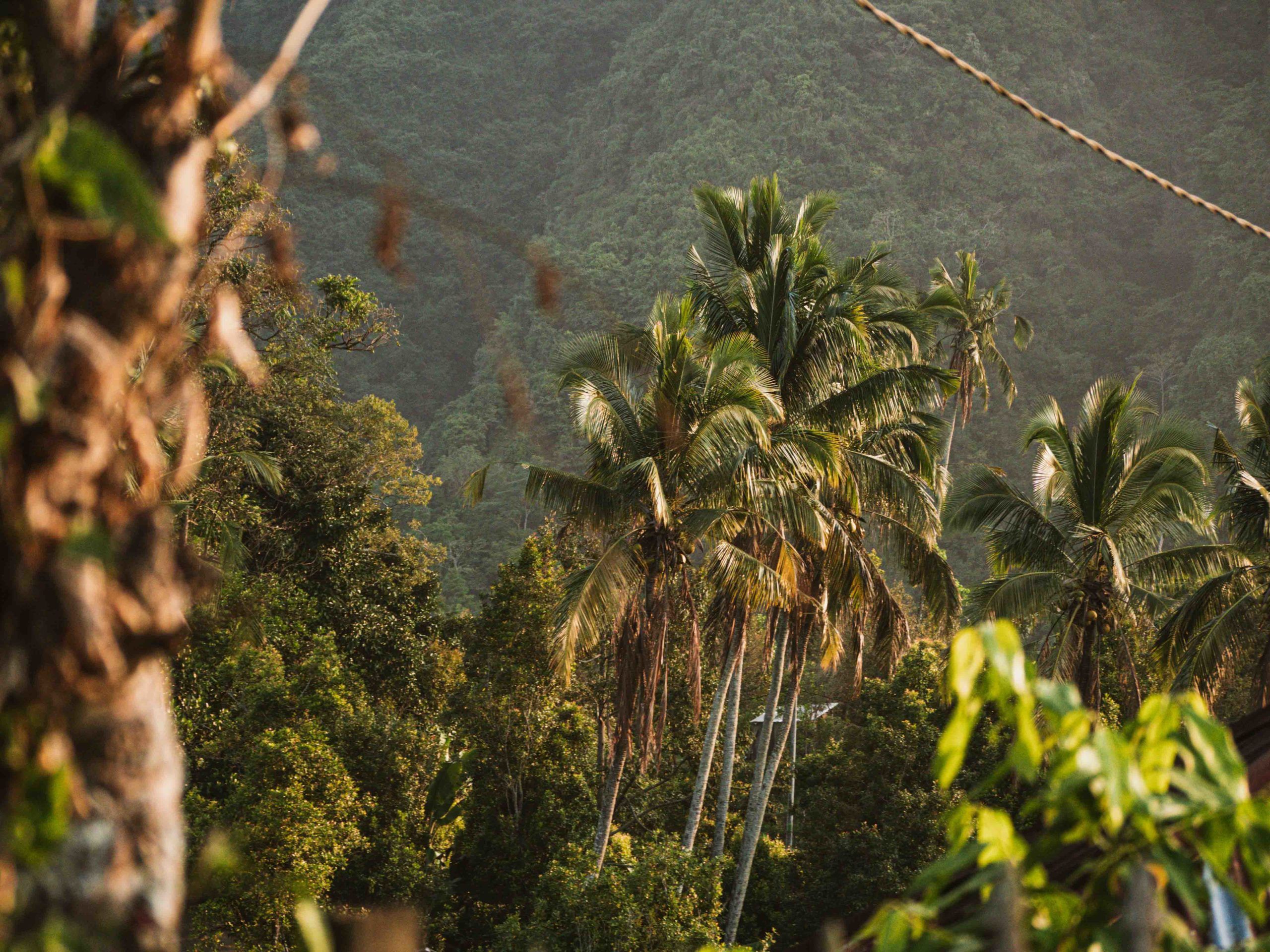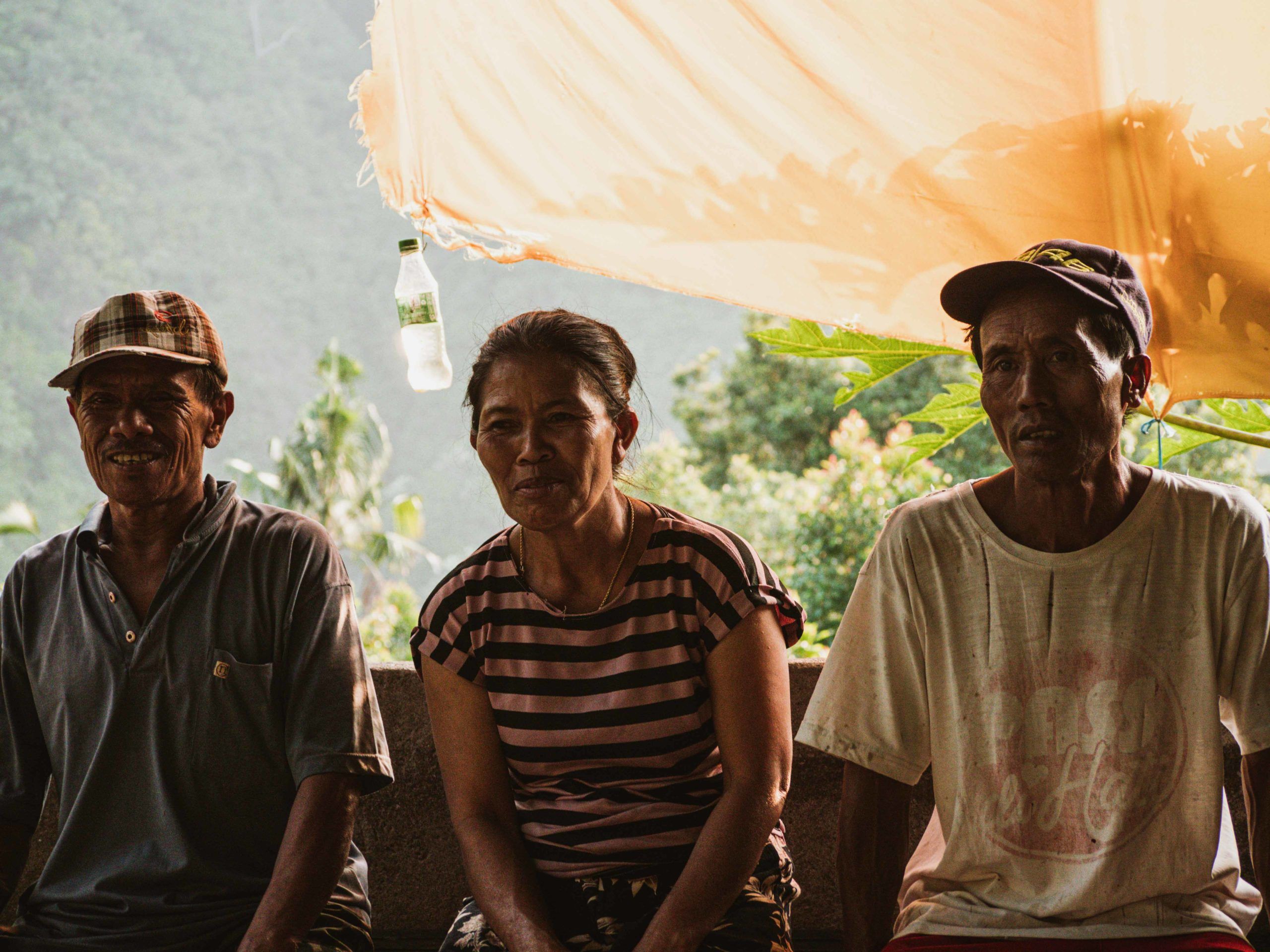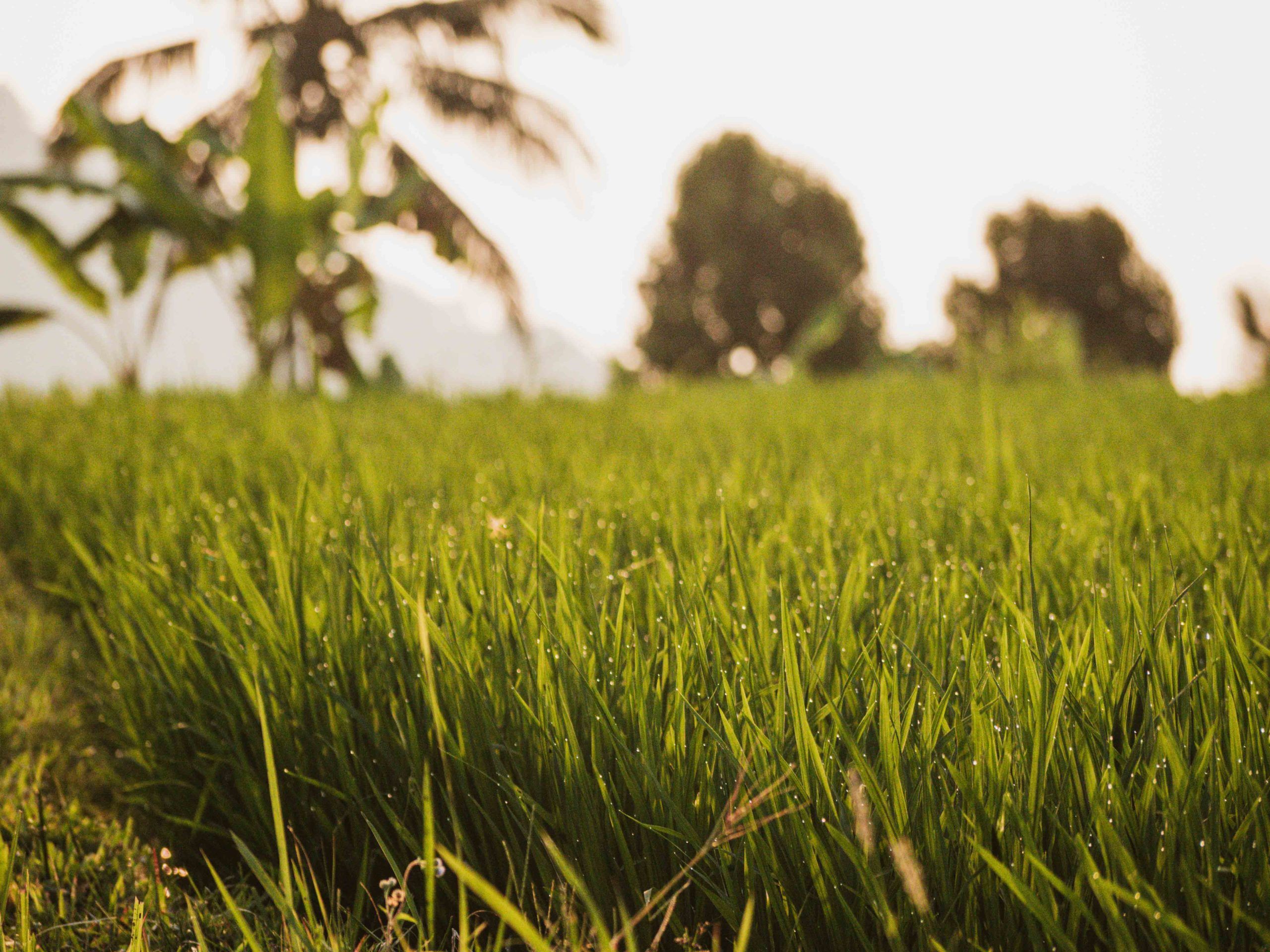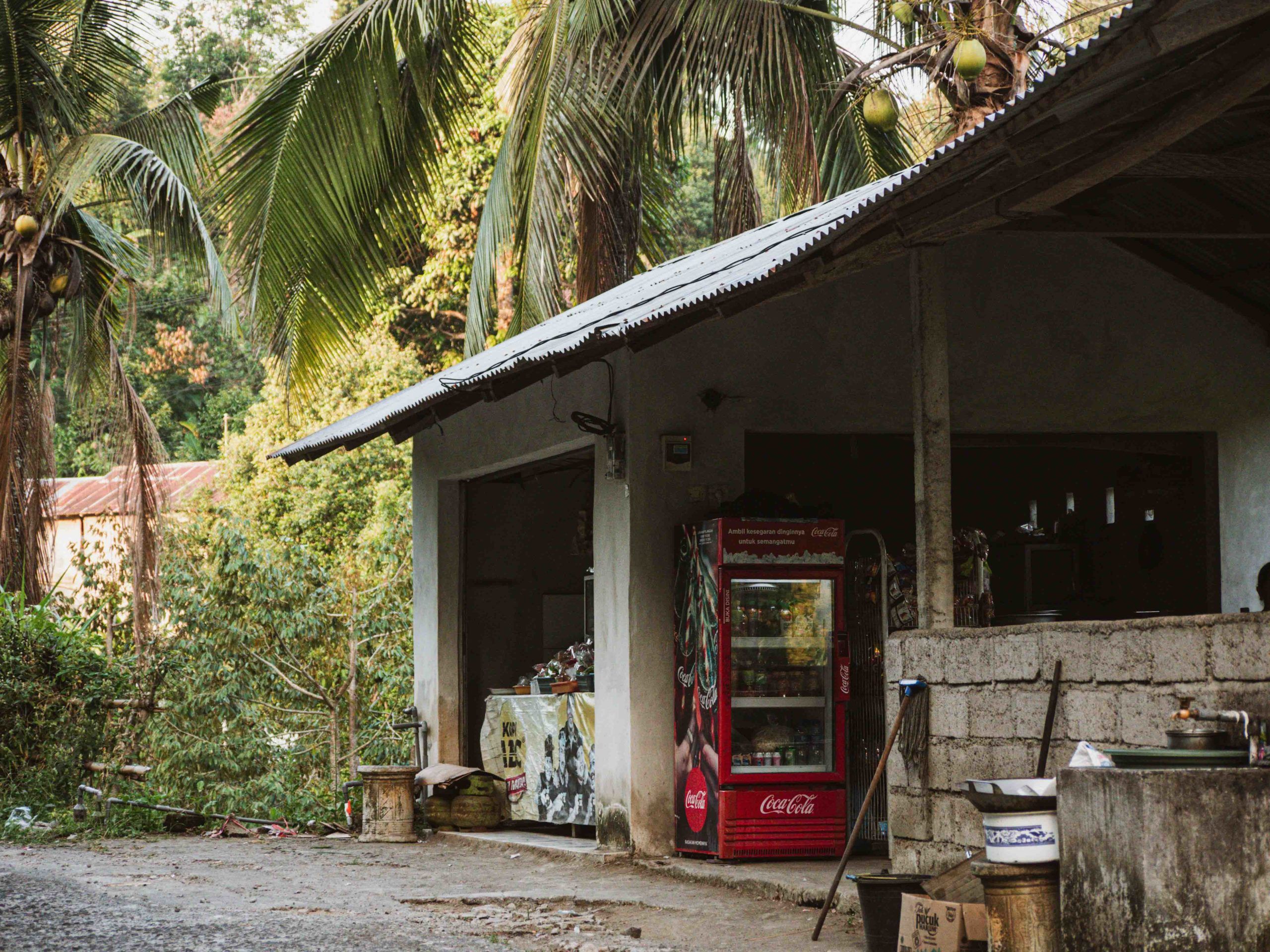 It's a trio of islands called Gili Trawangan, Gili Air and Gili Meno. Only two are accessible for sleeping, but the third is possible with tours. The islands are very, very small. There's not much to do except enjoy life, snorkel, surf, swim with turtles and party.
I loved my time on Gili T! I had taken a trip to visit Gili Meno and Gili Air, which are also magnificent islands!
It's not a very large island, but it has plenty to offer! Between spectacular beaches, breathtaking views and excursions to swim with manta rays, Nusa Penida is bursting with beauty!
I loved exploring the island and seeing its magnificent landscapes! The coastline is breathtaking!
My hostel: Nuansa Penida (hostelworld)
My advice: take cash, as ATM can run out of money in the main towns.
21. Cruise in Komodo National Park
If you have the time, take a cruise for several days and discover the Komodo National Park. There are various options for exploring this archipelago from Lombok or Flores. You'll have the chance to swim with whale sharks, discover incredible beaches and enjoy breathtaking sunsets. But above all, you'll get to see Komodo dragons!

This cruise was one of my favourite moments of my trip! If you have time, I highly recommend the experience!
Did you like the article? Share it with others!
You may also be interested in ...